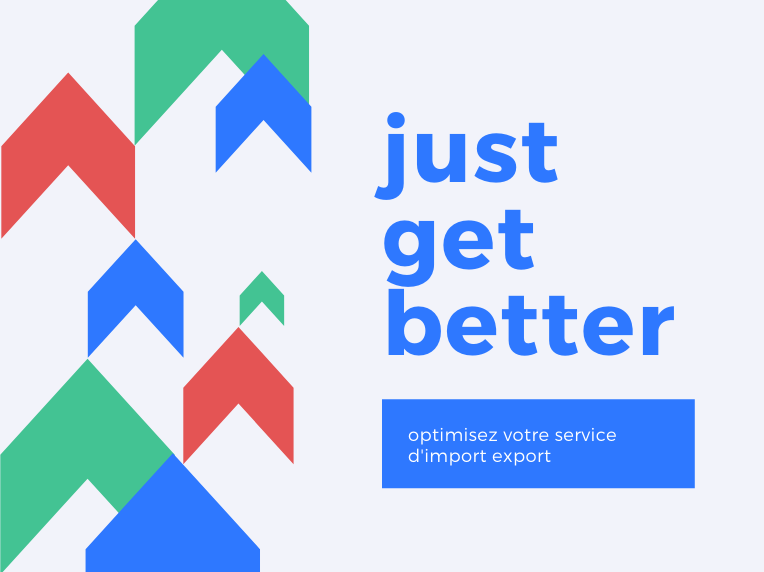 Import-export is a complex sector. Indeed, the international dimension of this type of activity as well as the large number of actors in the transactions make it necessary a particularly fine management. For this reason, it is essential to to optimize your import-export department to improve efficiency and productivity profitability. Proven methods and tools exist to achieve this objective in an effective way. The result is better agility and a better Improved customer satisfaction requirements.
The essentials for import-export
First of all, it is necessary to study the fundamentals and understand the elements essential to a sustainable international trade activity. 
Rigour in the organisation of tasks
One of the first needs is a strong structuring of your import activity and of export. This is because the international development of a company quickly encounters several widespread difficulties related to differences between each market.
In practice, depending on the country, the regulations on raw materials and products are not necessarily identical. In addition, customs documents for exports must be completed in a scrupulous manner. Thus, you must be well aware of these essential distinctions between source and destination countries in order not to make any mistakes in your operations logistical.
Similarly, according to theincoterm in an international transaction, your obligations as a buyer or seller differ. These obligations are linked to actions mainly concerning the transport and insurance of goods. Particular attention should therefore be paid to the choice of incoterm and the actions it induces.
In addition, operations made up of a set of small tasks are the core of this transit to on a global scale. Therefore, at each step of the process import and export, the organization must be perfect. Otherwise, the processes may fail quickly. Thus, omissions or errors can jeopardize your business and business development with foreign markets.
Financing capacity
Then, the very nature of import-export makes it necessary to have a good financing capacity. Indeed, the many elements essential to the smooth running of your business of international trade and associated logistics management such as transporters or inventory management will mechanically immobilize funds.
In addition, it will be necessary to be able to finance purchases and sales to ensure the functioning and the continuous development of your international trade.
Effective inter and intra-company communication
As we have it underlined, one of the specificities of the import-export activity is the very a large number of actors involved in its functioning: traders, exporters, importers, freight forwarders, suppliers, importers, suppliers, suppliers and banks, insurance companies, inspectors, carriers (road, air, maritime), customers....
These different parts stakeholders must of course be able to communicate effectively throughout the supply chain. The flow of information is internal with your employees, but also externally with your customers and employees suppliers. 
Messages from this communication will have to be recorded. More generally, it is important that all actors can exchange information at any time when, anywhere. These points are a prerequisite for your success. Therefore, it is necessary to define objectives and monitor progress of these initiatives until all objectives are met.
The means to optimize its import-export service
When the bases are the next step is to optimize its import-export department to to maximize the profitability of its activity.
The precise definition of its business processes
We have seen that the error or omission on segments of the chain logistics could have serious consequences for the company. Therefore, one of the first elements is the implementation of business processes that require great rigour. They must not allow mistakes that could cause you harm.
To do this, you will must create action templates to be performed. In concrete terms, they will translate the application of sometimes complex regulations in small tasks axiomatic. 
If each employee knows exactly what to do and how to do it, the risk of error is reduced. For example, establish lists of tasks to be performed. This rationalization of actions and the follow-up of specific actions to be carried out will allow you to replace quickly a missing employee. It will also be impossible to forget a action or document since all actions will be recorded in the "intelligent" list of tasks that must be carefully followed. 
An impeccable regulatory watch
Knowing that one of the main difficulties is the question of regulations, it is essential to put a lot of effort into it. Thus, you must be aware of the regulations in force, of course, but also of the least modification. 
Therefore, it is necessary to implement a regulatory monitoring process to ensure that it is always up to date. To achieve your goal, you must surround yourself with experts and participate in to user clubs. Feel free to also benefit from the expertise of consular institutions that are valuable sources of reliable information about all existing regulatory texts.
A provisional management of its cash flow
Your international trade activity requires the implementation of a detailed management of the cash-flow,. Indeed, anticipation is a central aspect of success in this highly competitive sector. 
The anticipation of the as well as the monitoring of line consumption with the financial partners are therefore an essential point.
In addition, several points deserve your attention. First, the financing of positions suppliers and customers via banking products is expensive. Then, your The ability to finance operations is strategic. This is because the management of the financial resources made available to you and the number of exchanges carried out will have an impact on the company's results. 
It's all these elements that require prudent cash management. In addition, this essential financial planning is complex. Fortunately, the IT can and will must contribute to the successful completion of this financial management, in particular through the use of artificial intelligence.
Continuous information sharing
Flow optimization and the success of your import-export department depends above all on information and its sharing. 
So that all your employees remain in contact at all times and in all places, you must so have an internal messaging system linked to each case. In In addition, the use of a digital platform will help you to make it accessible 24-hour information anywhere in the world. In this way, all actors will have access to clear and equal sharing of information. 
It is a question of a necessary to guarantee the effectiveness of your teams. Indeed, your employees are present all over the world. In addition, the information which are constantly in transit between customers, suppliers and the company are essential to the agility of your trading activity and its very existence.
With regard to the information considered as "non-strategic", it must be possible to exchanged electronically without the need for human intervention. This automation of simple processes is important to increase profitability and in terms of speed of execution. 
IT tools and solutions for import-export management
To earn by efficiency and optimize an import-export activity, it is essential to carry out a digitalization of its activity. Indeed, the new technologies are a major lever to increase your productivity.
Hesitation, resistance or mistrust are the main obstacles to the digitalization of companies. However, those that have taken the plunge have much more growth high. 
The automation of process makes it possible to streamline the supply chain and improve productivity while drastically reducing costs. To do this, you must define your objectives and then put you in a state of mind based on evolution constant. Because digitisation is not a break, but a increased agility and innovation that must be achieved step by step always respecting the company's goals and objectives. 
To make this transition, the easiest way is to equip yourself with professional software adapted to your activity. The software TRADE.EASY has been developed to address the specific issues of the international trading sector.
Within this software in SaaS mode, all the import-export professions are combined. As a result, the order managementThe logistics follow-up and its formalities as well as the actual or forecasted cash flow are all centralized in a collaborative and secure space. 
It is therefore a complete platform for supporting the management of your activity. TRADE.EASY makes it possible to simplify the management of your activity while significantly improving the company's efficiency. Simply put, a professional all-in-one, tailor-made solution! Write to us to see more!