In summary
The
activities

of an export department

You ensure the development of your company's international sales and/or the supply of your subsidiaries abroad. Prospecting, loyalty and profitability are your main objectives. Loyalty is built through flawless execution of your orders, but there are many obstacles linked to exporting: changing regulations, information sharing, shipment tracking, etc. You must be irreproachable at all levels: administrative, logistical, technical.
Your
needs

for the management of your export department

An efficient export department, beyond the human qualities of your resources, is a well-organized, alert and proactive service. Its tasks are numerous, diverse and complex, their execution therefore requires particular rigour. The international dimension of export brings its share of complications. The implementation of well-structured work processes is therefore essential to enable your teams to deliver their full potential and to have perfectly coordinated actions. Automating these processes saves considerable time, facilitates and secures the circulation of information, and guarantees the satisfaction of your customers. Communication between employees - for the execution of tasks - and with your multiple partners - for the logistic follow-up of shipments - must be reliable and fluid. So give your company the development it deserves by choosing a work tool adapted to your activity.
Organize
Automate
Contact
Optimize
Our
Answer

for an efficient export service

A collaborative tool to structure and simplify the logistical execution of your company's shipments.

Learn more
Smart to-do list
Any order validated by the sales team leads to the automatic addition of tasks to be processed by logistics according to the rules you will have defined. The planning, preparation and control of all operations are facilitated.
Documents
Automatically edit regulatory documents. The production of the bill of lading, the packing list, the certificate of origin, the certificate of analysis... is done in your image. The formalities of your shipments are thus handled more simply!
Customer Care
Thanks to automated customer follow-up, keep your partners informed of the preparation and progress of their orders. No time-consuming re-entry or handling, you save time while ensuring customer satisfaction.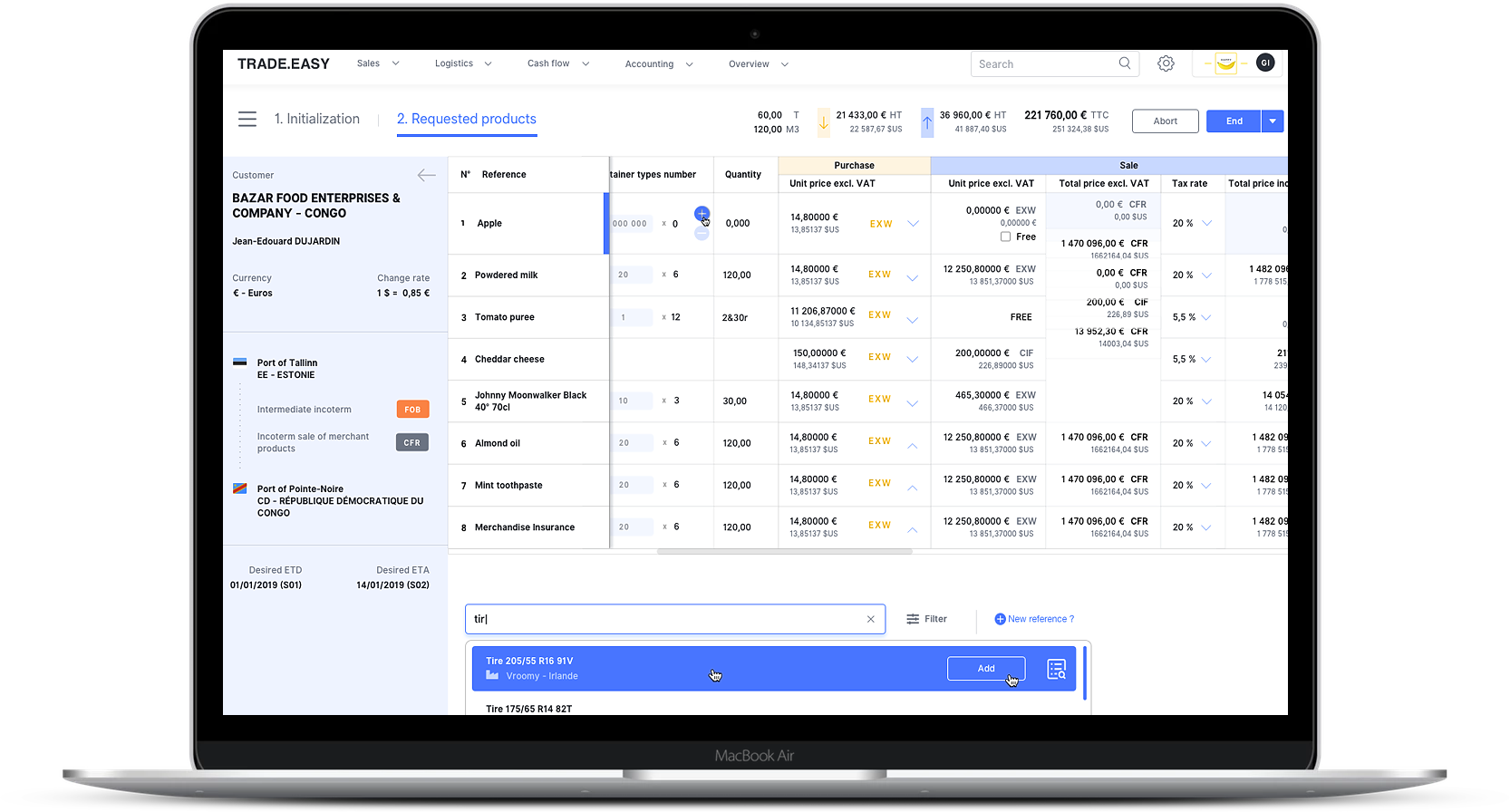 Organize and process your activity
Gain in rigour of execution
Improve customer satisfaction