In summary
Your
activities

in international trade

You source the best products to meet the demands of your customers. You manage, by the volume you trade, to get the best prices. Your financial partners allow you to offer your customers the best commercial conditions. The quality of your advice and service makes the difference. From commercial negotiation to the follow-up of logistic operations, through the control of your treasury, the activities of your import-export company are multiple and require rigour and organisation!
Your
needs

for the management of your trading activity

You must have the necessary means to structure your work processes and control the execution of your import/export operations. It is indeed essential to follow a continuous improvement approach of your processes in order to save more and more time and to be more competitive. To do this, the centralization and structuring of your company's data is essential. Access to this data must also be secure and intuitive for your team.
In addition, you must avoid disputes and remove obstacles at every stage of a transaction. This implies an in-depth knowledge of your customers and suppliers (terms of payment, deadlines, order history, etc.), clear and precise visibility of past, current and future operations and actions, and the ability to quickly edit commercial and regulatory documents.
A smooth flow of information between employees and with your customers is also essential: sharing knowledge within your team, easily informing your customers about the progress of their orders, these "small" things sometimes make a "big" difference.
Finally (and above all), it is necessary to have a global and precise vision of your company's activity in real time, for an easier decision making and a controlled management of your financial flows. Indeed, in international trading, cash flow is (along with people, of course) the heart of the strategy. Knowing your actual and forecast cash flow is fundamental to anticipate future peaks and troughs that may or may not allow you to sign future orders. Define your indicators and follow them scrupulously in order to promote your long-term growth.
Automate
Edit
Inform
Anticipate
Drive
Analyze
Our
Answer

for an optimized management of your international trading activity

An all-in-one solution to manage your business end-to-end, and improve the execution of your import-export operations.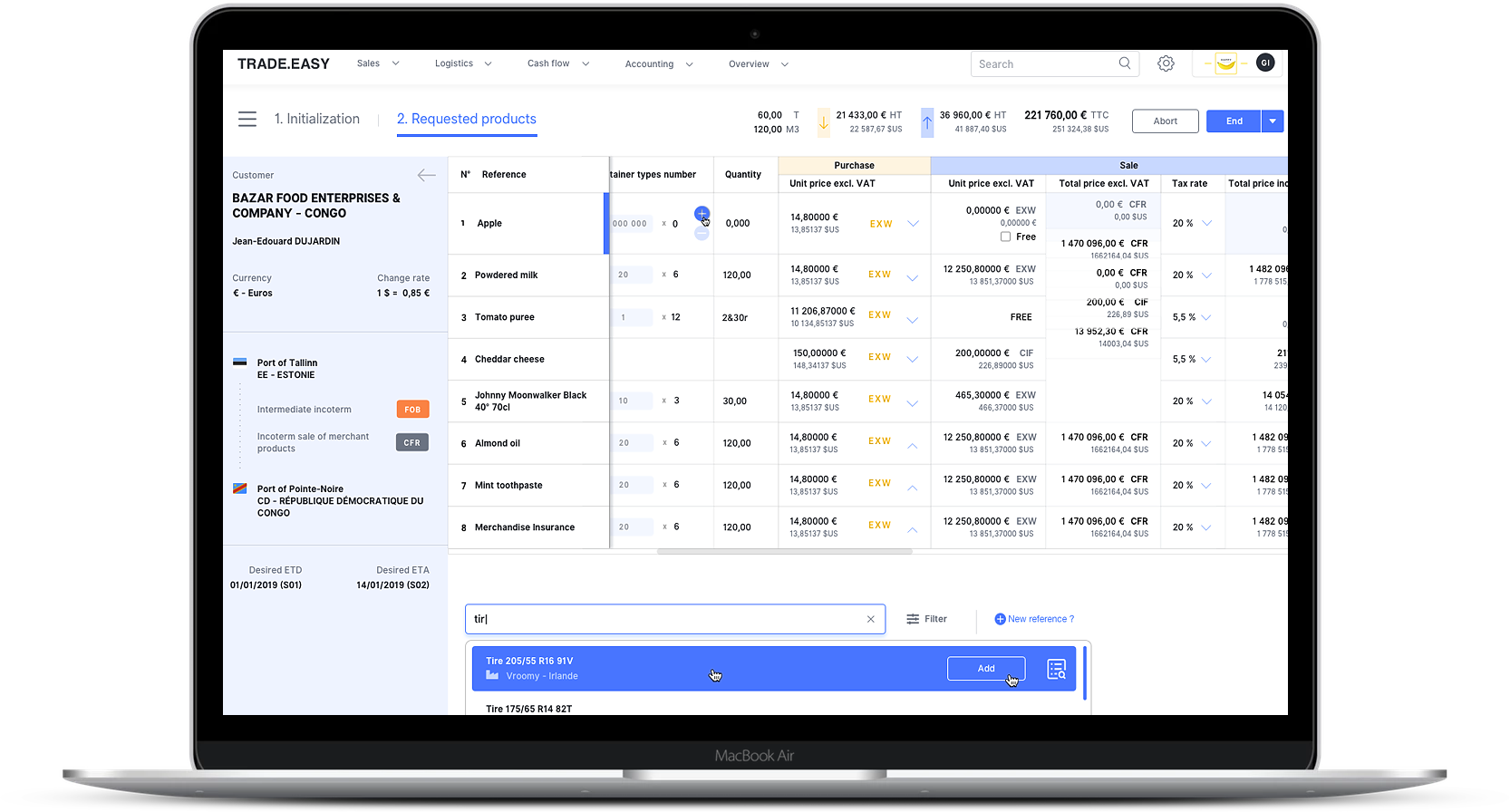 Gain in rigour of execution
Improve customer satisfaction
Benefit from a global vision